SoundThinking Earns "World Class" NPS Rating in 2023 Customer Loyalty Survey
Summary: SoundThinking, Inc. today announced it has received a Net Promoter Score (NPS) at a level considered "World Class," affirming the company's long-standing commitment to outstanding customer success and satisfaction
FREMONT, Calif., Nov. 15, 2023 (GLOBE NEWSWIRE) -- SoundThinking, Inc. (Nasdaq: SSTI) (formerly ShotSpotter, Inc.), a leading public safety technology company, today announced it has received a Net Promoter Score (NPS) above the 60% level, considered "World Class," affirming its long-standing commitment to outstanding customer success and satisfaction. The NPS, revealed as part of Satrix Solutions' Customer Loyalty and Satisfaction Survey conducted in September and October 2023, is a business metric measuring overall customer loyalty and the likelihood that a product will be recommended to others.
SoundThinking's 2023 score of 64% represents an eight percentage point boost compared to 2022 and is among the highest ever recorded in the company's history. Other key findings for 2023 include:
• The sentiment among the majority of customers continues to be highly favorable, as 69% have given ratings in the Promoter category, scoring either a 9 or 10 on a 10-point scale;
• The "likelihood to recommend" average rating scored 9.1 on a 10-point scale;
• 97% reported that SoundThinking's value/benefit either "met" or "exceeded" initial expectations; and
• 97% either "agreed" or "strongly agreed" that SoundThinking is considered a "true partner."
"SoundThinking's NPS continues to substantially outperform the average for business-to-business (B2B) companies," said Evan Klein, CEO of Satrix Solutions, a customer experience consultancy founded in 2008. "This year's NPS of 64% makes seven consecutive years above 50%. Both the high score and the consistency over time is quite impressive and speaks to SoundThinking's company-wide commitment to delivering solutions that their customers value, together with an exceptional service experience."
NPS is considered the gold standard of customer satisfaction. By way of comparison, other companies achieving "World Class" status include Apple, Costco, and USAA.
"This is a team accomplishment that should make us all incredibly proud," said Ralph A. Clark, CEO and President of SoundThinking. "It takes innovative technology solutions supported by best-in-class operations, technology, customer service and customer success teams to meet and exceed our customers' expectations. When law enforcement and civic leaders put their trust in SoundThinking's SafetySmart™ platform, they can count on us as a trusted advisor and committed partner in supporting their public safety goals."
To learn more about SoundThinking and the data-driven solutions included in our SafetySmart platform, visit SoundThinking.com.
About SoundThinking
SoundThinking, Inc. (Nasdaq: SSTI) is a leading public safety technology company that delivers AI and data-driven solutions for law enforcement, civic leadership, and security professionals. SoundThinking is trusted by more than 250 customers and 2,000 agencies to drive more efficient, effective, and equitable public safety outcomes. Our SafetySmart™ platform includes ShotSpotter®, the leading acoustic gunshot detection system; CrimeTracer™, the foremost law enforcement search engine; CaseBuilder™, a one-stop investigation management system; ResourceRouter™, software that directs patrol and community anti-violence resources to help maximize their impact; and SafePointe®, a next-generation concealed weapons detection system. SoundThinking has been designated a Great Place to Work® Company.
Company Contact:
Jerome Filip, PR & Marketing Specialist
SoundThinking, Inc.
510-203-0934
jfilip@soundthinking.com

Investor Relations Contact:
Matt Glover and Greg Bradbury
Gateway Group, Inc.
+1 (949) 574-3860
SSTI@gateway-grp.com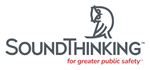 Source: SoundThinking, Inc.

Released November 15, 2023