Ralph A. Clark
President and Chief Executive Officer
Ralph Clark is that rare technology company CEO who is equally committed to shareholder value and making a meaningful societal impact. Leading ShotSpotter since 2010, he is dedicated to helping law enforcement agencies provide equal protection for at-risk, underserved neighborhoods, reducing gun violence and restoring police as trusted guardians of the community. Clark led the transformation of ShotSpotter to a SaaS based business model ultimately taking the company public in 2017.
With more than 30 years of corporate, financial and organizational leadership, Clark was previously CEO of GuardianEdge Technologies Inc. where he drove its acquisition by Symantec. Earlier in his career he worked for IBM, Goldman Sachs and Merrill Lynch. Clark received the 2019 EY Entrepreneur Of The Year® Award for Northern California. He is a former board member and chair of Pacific Community Ventures, former board member and chair of the Oakland Boys and Girls Club, former trustee and Vice-Chair of the Oakland Museum of California, is a member of Harvard Business School's California Advisory Board and is a trustee of the American Conservatory Theater. He holds a B.S. in economics from the University of the Pacific and an M.B.A. from Harvard Business School.
Alan R. Stewart
Chief Financial Officer
Alan R. Stewart serves as Chief Financial Officer bringing a strong background in mergers, acquisitions and corporate finance to the company. Prior to joining ShotSpotter, Stewart served as Managing Director of RA Capital Advisors, LLC, a private investment bank specializing in mergers and acquisitions, private financings and restructurings. From 2004 to 2014, he served as Chief Financial Officer and then Chief Development Officer of Epsilon Systems Solutions, Inc.
Since 2008, Mr. Stewart has served as President of FIT Advisors, LLC, a boutique consulting firm that offers temporary CFO services and served clients from start-up ventures to large private companies in vertical industries spanning government contracting, software, retail, healthcare IT, banking and Internet applications.
Stewart was selected as San Diego Business Journal's CFO of the Year in 2007 and again in 2013. Both awards were in the large private business category. Prior to his business career, Stewart served over ten years as a submarine nuclear engineer in the United States Navy. He received his B.S. in Oceanography, with distinction, from the U.S. Naval Academy and his M.B.A. from Harvard Business School.
Paul Ames
Senior Vice President, Products and Technology
Paul Ames, a 25-year technology veteran, joins ShotSpotter as Senior Vice President, Products and Technology, to lead the product development, software, hardware and operational engineering teams. Before ShotSpotter, he founded Deckchair Software LLC, to conceive, develop and market consumer facing mobile apps.
At Premier Retail Networks (PRN), a division of Technicolor, Ames served as Vice President of Product Development, responsible for driving development of a $100MM yearly revenue video advertising platform.
Paul started his career in the UK and has held senior technology leadership roles across a broad range of industries including communications, financial, professional information and media. He received his Computer Science education at the Polytechnic of South Wales and post graduate studies in Electronic Sound at University College, Cardiff.
Gary T. Bunyard
Senior Vice President, Sales and Security
Gary Bunyard brings over 25 years of public safety technology sales, marketing, operations, and executive leadership experience to ShotSpotter. Today, Gary heads up the ShotSpotter public safety sales and customer success teams. Before joining ShotSpotter, he served as Vice President of Sales for TriTech Software Systems and Vice President of Sales and Chief Operating Officer for VisionAIR, Inc.
Prior to that, he served as Vice President of Sales, Chief Operating Officer, and subsequently, President and Chief Executive Officer at Tiburon Corporation. Bunyard started his career at IBM, where he held several sales and sales management positions.
Bunyard holds a B.B.A. in International Business and a B.A. in Psychology from the University of Texas at Austin.
Regan Davis
Senior Vice President, Customer Success and Field Engineering
Regan Davis brings over 25 years of leadership in Customer Success, Strategic Partnerships and General Management. She leads ShotSpotter's world class Customer Success and Field Engineering team helping customers get maximum value from ShotSpotter's solutions from initial service deployment through customer onboarding with best practices and community engagement.
Prior to joining ShotSpotter, Regan was VP of Customer Success, Support and Professional Services for TapClicks, a leader in Marketing Technology. TapClicks offers a powerful and robust data analytics, reporting and workflow platform. Her focus was in building strong relationships with customers and ensuring their success.
Prior to TapClicks, she held executive roles in companies such as Yahoo and Media News Group and has been a frequent presenter at industry conferences. She is also a former board member and chair of Family Support Housing Board of Directors and has been active in the local community.
Regan holds a B.A. in Economics from UCLA.
Nasim Golzadeh
Senior Vice President, Customer Support and Professional Services
Golzadeh has more than 18 years of leadership in operations, software implementation and professional services in a variety of industries. She has created, led and scaled high-performing teams and implemented effective, efficient, repeatable and consistent service delivery and operational processes.
Prior to joining ShotSpotter, Golzadeh was in charge of Operations and Professional Services for CentralSquare Technologies (formerly TriTech Software Systems), a leader in Public Safety software. The company delivers complex enterprise, mission critical solutions to thousands of law enforcement, fire and EMS agencies worldwide. During her 14 year tenure, she led consistent professional services revenue growth, drove operational excellence, continuous process improvement and high customer satisfaction while the Operations group experienced 10-fold growth.
Prior to CentralSquare, Golzadeh held leadership roles in banking, manufacturing, software, and higher education.
Golzadeh has a B.S. in Electrical Engineering, an M.S. in Software Engineering, and an M.B.A.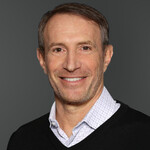 Sam Klepper
Senior Vice President, Marketing and Product Strategy
Sam Klepper leads the demand generation, content, PR, events, and product management teams. He has been with the company since 2019 and has 25 years of marketing, product and business leadership experience working for innovative, fast-growing technology companies.
Klepper was previously VP of Sales and Marketing at EnerAllies, a SaaS-centric IoT energy management platform. He was President and CEO of Lavante, a leader in SaaS supplier management solutions. As CMO for Redwood Systems, a lighting controls and IoT provider, he helped the company grow revenues 15x over two years. As CMO at eMeter, a smart grid enterprise software company, Klepper led the creation of a new product line and transformed company positioning prior to a successful acquisition by Siemens. Prior to eMeter, Klepper was a GM at Microsoft responsible for a $500M portfolio of online subscription businesses. He was also part of the team that grew WebTV Networks recurring revenues from $0 to $200M. At Intuit, he developed the strategy and led product teams to enter the SMB accounting (QuickBooks) and payroll markets that today generate over $2B in revenues. He began his career with Bain & Company.
Klepper has a bachelor's degree in History and Science magna cum laude from Harvard University and a master's degree in business administration from Harvard Business School.
Tom Chittum
Senior Vice President, Analytics and Forensic Services
After nearly 27 years in federal law enforcement, Tom joined ShotSpotter to help promote and support the integrated use of the company's vast data holdings and comprehensive public safety solutions. He leads a team of experienced professionals committed to supporting robust and effective application of ShotSpotter's products in investigations, forensics, and litigation.
Tom is a licensed attorney. He retired from the Bureau of Alcohol, Tobacco, Firearms and Explosives (ATF) as a member of the Senior Executive Service (SES). He spent his last year as Chief Operating Officer (COO). Over the course of his career, he enforced a wide range of federal criminal laws, especially related to firearms and violent crime. He worked undercover extensively and frequently testified in federal court as both an expert witness and a fact witness. He played an integral role in promoting the U.S. Department of Justice's adoption and use of Crime Gun Intelligence tools and tactics.
He has a BA in Criminal Justice from Marshall University in Huntington, WV; an MS in Criminal Justice from Eastern Kentucky University in Richmond, KY; and a JD from the University of Nevada-Las Vegas.
Tom is dedicated to helping make this a safer world.
Smita Nair
Senior Vice President, Software Engineering
Smita brings over 30 years of experience in software development with more than 18 years in engineering leadership. She leads the engineering organizations for our industry leading investigative case management, gun crime management and law enforcement search engine products.
Smita was previously the VP of Engineering and Operations at Pivot Systems, a software services company, where she led and grew teams focused on SaaS, enterprise software, cloud-based solutions, mobile applications, systems software and more. She led engineering for several complex software systems while scaling the organization from 32 to over 200 and delivering many parallel releases across various customers including Fortune 500, mid-sized, and startup companies. Smita was particularly instrumental in creating niche engineering teams in the areas of physical security, video surveillance, and speech AI. Prior to Pivot Systems, she performed engineering management and lead developer roles at eBay, Cisco, HP, Netscape-AOL, CoSine Communications and more.
She is passionate about volunteering and giving back to the community and serves on non-profit boards in the areas of education, career development and community service.
Smita holds a B.S. degree in Computer Science from the National Institute of Technology, Bhopal, India, an M.S. in Systems Engineering from San Jose State University and an MBA from SJSU's Lucas School of Business.