Pascal Levensohn
Chairman of the Board
Pascal Levensohn is the Managing Member of Levensohn Venture Partners LLC (1996 -Present), the CEO of Levensohn Global LLC (1996- Present), and the Senior Managing Director of Dolby Family Ventures (2012 – Present). Pascal specializes in aligning interests and resolving conflict among the different stakeholders of closely held enterprises to optimize their potential for success. He is a former director of the United States' National Venture Capital Association (2007 – 2011). With his partners, he currently manages a global technology portfolio of over 70 startups across four vintages of single-LP funds, the most recent having been launched in 2021. Pascal holds an AB in Government, cum laude, from Harvard University (1981) and is a graduate of the Lawrenceville School (1977, with Academic Distinction). He is a life member of the Council on Foreign Relations, a former Trustee of the American Academy in Berlin, and a former co-chairman of the Aspen Institute's Socrates Society.
William J. Bratton
Director
Mr. Bratton is currently Senior Managing Director of Teneo Holdings, a global CEO advisory firm, and Executive Chairman of its Teneo Risk division. Mr. Bratton also serves as the Vice Chairman for the Secretary of Homeland Security's Advisory Council. Mr. Bratton has over 40 years of experience in law enforcement, including as Chief of the Los Angeles Police Department and Commissioner of the New York City and Boston Police Departments. Mr. Bratton previously served as a member of ShotSpotter's Board of Directors, from April 2013 until December 2013, when he resigned in order to serve his second appointment as Commissioner of the New York City Police Department.
Ralph A. Clark
President and Chief Executive Officer
Ralph Clark has been leading SoundThinking (formerly ShotSpotter) since 2010 as President and CEO. Clark led the transformation of ShotSpotter to a SaaS-based business model, ultimately taking the company public in 2017. The company has since expanded to become a leading platform-based next-generation public safety solutions company engaged with over 250 public safety agencies globally.
Ralph has more than 30 years of corporate, financial and organizational leadership. Prior to SoundThinking, he was the President and CEO of GuardianEdge Technologies Inc. where he drove a successful exit with its acquisition by Symantec. Earlier in his career, he worked for IBM as a large systems marketing representative and manager. After business school, he served as an investment banker with Goldman Sachs and Merrill Lynch.
Ralph received the 2019 EY Entrepreneur of The Year (r) Award for Northern California and was recognized as a 2019 Most Admired CEO by the San Francisco Business Times.
Community service is a priority. He is a former board member and chair of Pacific Community Ventures, former board member and chair of the Oakland Boys and Girls Club, former trustee and Vice-Chair of the Oakland Museum of California, and former trustee of the American Conservatory Theater.
Ralph currently serves on the Board of Directors of TriNet (TNET), a leading public company PEO firm, where he chairs the Nomination and Governance Committee. He is also a Board member of Glowforge, a Seattle-based venture capital-backed connected 3D laser printing company. Additionally, Ralph serves on Harvard Business School's California Advisory Board.
He holds a B.S. in economics from the University of the Pacific and an M.B.A. from Harvard Business School.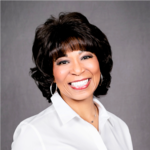 Deborah "Deb" Grant
Director
Deborah (Deb) Grant, is a visionary senior executive and one of the country's foremost experts in Diversity. She is the President and CEO of Corporate Playbook™, a company that provides leaders with strategic direction to elevate diversity, inclusion, philanthropy, and culture in the workplace.
Deb was GE's first-ever black female corporate officer. Her role as Global Chief Diversity Officer placed her in the top 185 of 300,000 employees. In Deb's decorated thirty-year career at General Electric (GE), she led GE's philanthropic efforts through the GE Foundation's $130M budget and GE Volunteers, to tackle some of the world's most critical challenges across health, education and skill attainment.
Deb has received numerous accolades, including 50 Most Powerful Women in Philanthropy from Inside Philanthropy, Women of Excellence Legacy Award from the National Association for Female Executives, and Women of Power Award from the National Urban League.
Deb received a Bachelor of Arts in Sociology, from Louisiana State University and a Master of Public Administration, from Southern University in Baton Rouge, Louisiana. She was also awarded an Honorary Doctor of Science from Clarkson University in Potsdam, New York.
Deb serves as an independent director at DJE Holdings (Edelman) www.edelman.com and Lucid www.luc.id. She is on the board of directors at the New Orleans Culinary and Hospitality Institute (NOCHI) and the Louisiana State University Foundation. Deb is also a member of the National Black MBA Association, Delta Sigma Theta Sorority, Incorporated and The Links, Incorporated.
Roberta S. Jacobson
Director
Roberta S. Jacobson is a senior advisor at the Albright Stonebridge Group. She served as the White House Coordinator for the Southwest Border from January through April 2021. She was the U.S. Ambassador to Mexico from May 2016 until her resignation in May 2018, retiring from the State Department after more than 30 years. In fall 2018, she taught at the University of Chicago's Institute of Politics as a Pritzker Fellow. Ms. Jacobson previously served as the Assistant Secretary of State for Western Hemisphere Affairs since March, 2012. She held various positions in the State Department's Western Hemisphere Bureau, embassies in Argentina and Peru, and the White House during her career. Ms. Jacobson holds a Masters of Arts in Law and Diplomacy from the Fletcher School of Law and Diplomacy (1986) and a Bachelor of Arts from Brown University. She is the author of numerous articles, including, "10 Things You Didn't Know About U.S. –Latin America Relations" (Americas Quarterly; 2013), "Women and the Rule of Law: A View from the Americas (The Fletcher Forum; 2014) and "The United States and the Western Hemisphere: A Relationship on the Rise" (The Ambassador's Review; 2015)
Marc Morial has served as a member of our board of directors since September 2015. Since 2003, Mr. Morial also has served as the President and Chief Executive Officer of the National Urban League, a civil rights organization dedicated to economic empowerment in order to elevate the standard of living in historically underserved urban communities. From 1994 to 2002, Mr. Morial served as the Mayor of New Orleans, Louisiana. Prior to serving as Mayor of New Orleans, Mr. Morial held other various positions in public office and nonprofit management. Mr. Morial has a B.A. in economics from the University of Pennsylvania and a J.D. from Georgetown University. Our board of directors believes that Mr. Morial's experience in serving underserved urban communities, local governments and community organizations qualifies him to serve on our board of directors.
Ruby is a Managing Partner of RNB Strategic Advisors, a strategic advisory firm, and also an advisory board council member for reacHIRE, a technology company focused on changing the trajectory for women in the workplace. She retired as senior partner at Ernst & Young LLP after 15 years where she worked with multi-national Fortune 500 corporations and founded The Center for Board Matters, a global strategy and execution infrastructure for governance services to boards and the C-suite.
She also worked as a Fraud Investigations & Dispute Services Partner at EY & Anderson, working with the U.S. Securities & Exchange Commission and other regulatory organizations on complex issues involving white-collar crime.
A Fellow Chartered Accountant, Ruby is a frequent keynote speaker and panelist on corporate governance topics. She received her Bachelor of Arts in Economics from Delhi University and has also attended Executive Education program for EY Partners at Northwestern University's Kellogg School of Management.